Audience: youthworker, teachers
Mapping of the Radotín landscape – experimental herbal.
Organising institution:
European Development Agency (EUDA)
Country:
Czech Republic
Age:
15 - 16
Key question:
Do you know landscape around your hometown?
Objectives:
If you see some unknown plant, which you have never seen before, are you able to found information about it?
Time:
1 + 2 + 3 hours
Software and apps to be used:
Plantnet, Google maps.
Brief presentation:
Goal of the project is connecting between systematic study work and creative art process. At first, will be introduced the main goal of the project. Then will be introduced nature locality called Radotín valley, which is part of protecting the landscape of the area Czech Karst. Students and teacher will realize journey through this area. The student will take photos of plants, use the application to identify wild plants and localize a place of the find. Then they will search for more information about plants (healing effects, poisonousness, growing process, type of blossom, botanical name, etc.) and use this information for inspiration to their artwork. At the and, each student creates one part of a collective experimental herbal.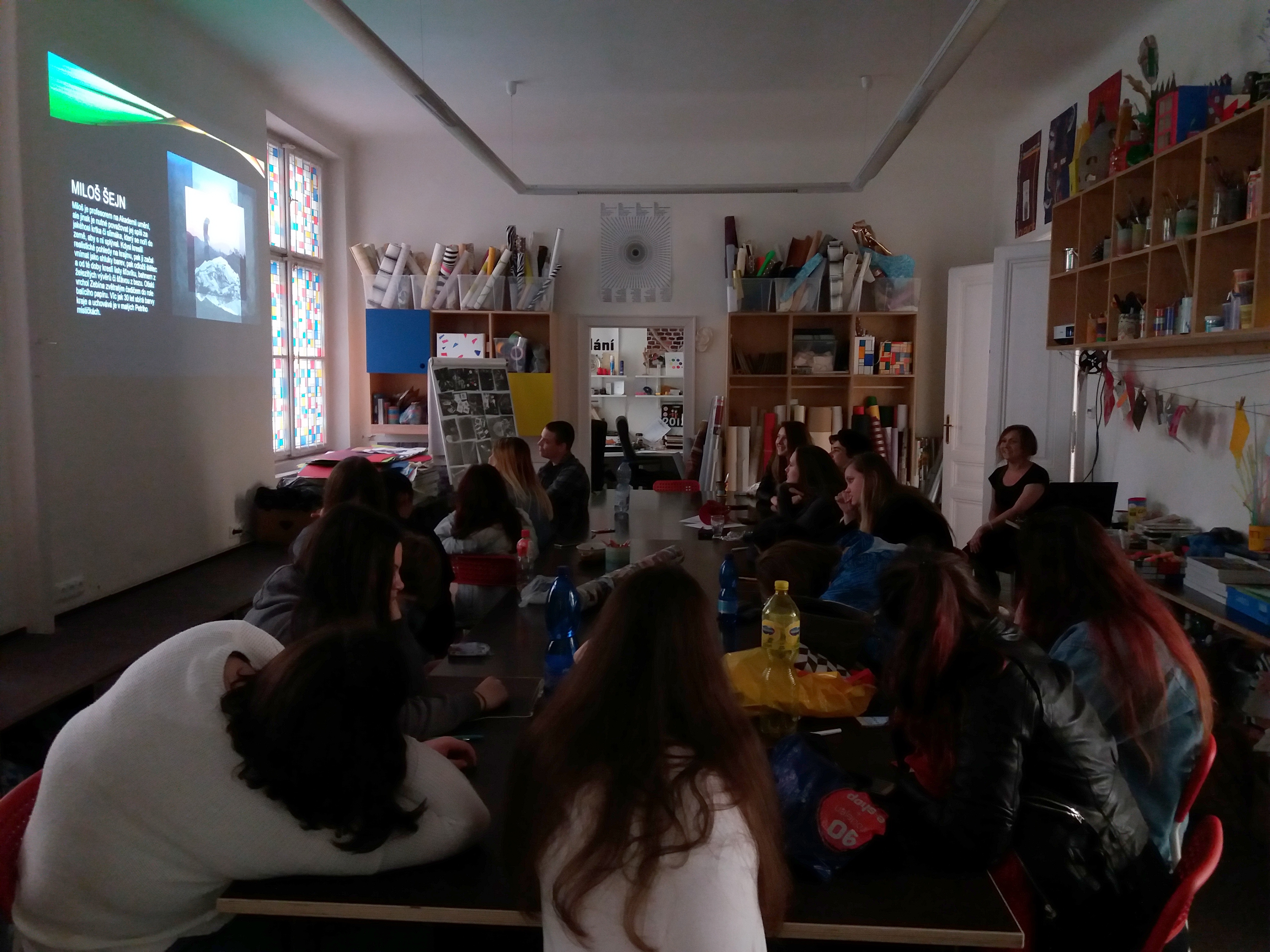 Topics covered:
Experimental herbal.
Civic engagement:
Students will found own sensitivity to the landscape. They become conscious of the history of the place, where they live, local legends, tradition of walking through the landscape and gathering herbaceous plants, mushrooms, and forest fruits. They will be in a contact with real nature and they can look for a way how to protect nature and local culture.
Preparation of space for the Atelier:
Digital Atelier will be realized in the Education Center of Prague City Gallery in Colloredo-Mansfeld palace. There is a big atelier with all materials and tools for artwork.
Materials needed:
Mobile phones, projector, copier, PC, books about plants, mushrooms, and herbals, artistic material like paint colors, pencils, pastels, coal, white and colored papers etc.
Main inspirations taken from personal research:
History – as in 17. century Maria Theresia takes in order to map the whole area of the Austro-Hungarian Empire. Bohuslav Balbín in his literate work Rozmanitosi z historie Království českého (Diversity of history Czech kingdom) compares Czech landscape to hundred blossomed rose.
Botany – Nature is our greatest teacher.
Visual art – Czech artist Miloš Šejn, František Skála, Marian Palla or German artist Wolfgang Laib – the artwork of each of this artist is connected with nature and some kind of gathering materials.
Mass media and social media connections:
Czech national anthem "KDE domov můj" – "Where is my home, their water murmur over the meadows, pine tree whisper over the rocks. There are spring flowers in blossom in the garden, it is the paradise on the earth. It is so beautiful country, Czech country, my home…".
How do you plan to give voice to students to present or show their personal skills and knowledge?
Talking about themselves. About their skills, preferences, wishes etc.
How do you collect information as the starting point of a Digital Atelier?
Information was collected in the questionnaire sheet.
Introducing students to the key question - the research begings:
The main question can be: What do you know about the area around Prague – your hometown? Secondary questions are based on IT skills and preferences during taking photos.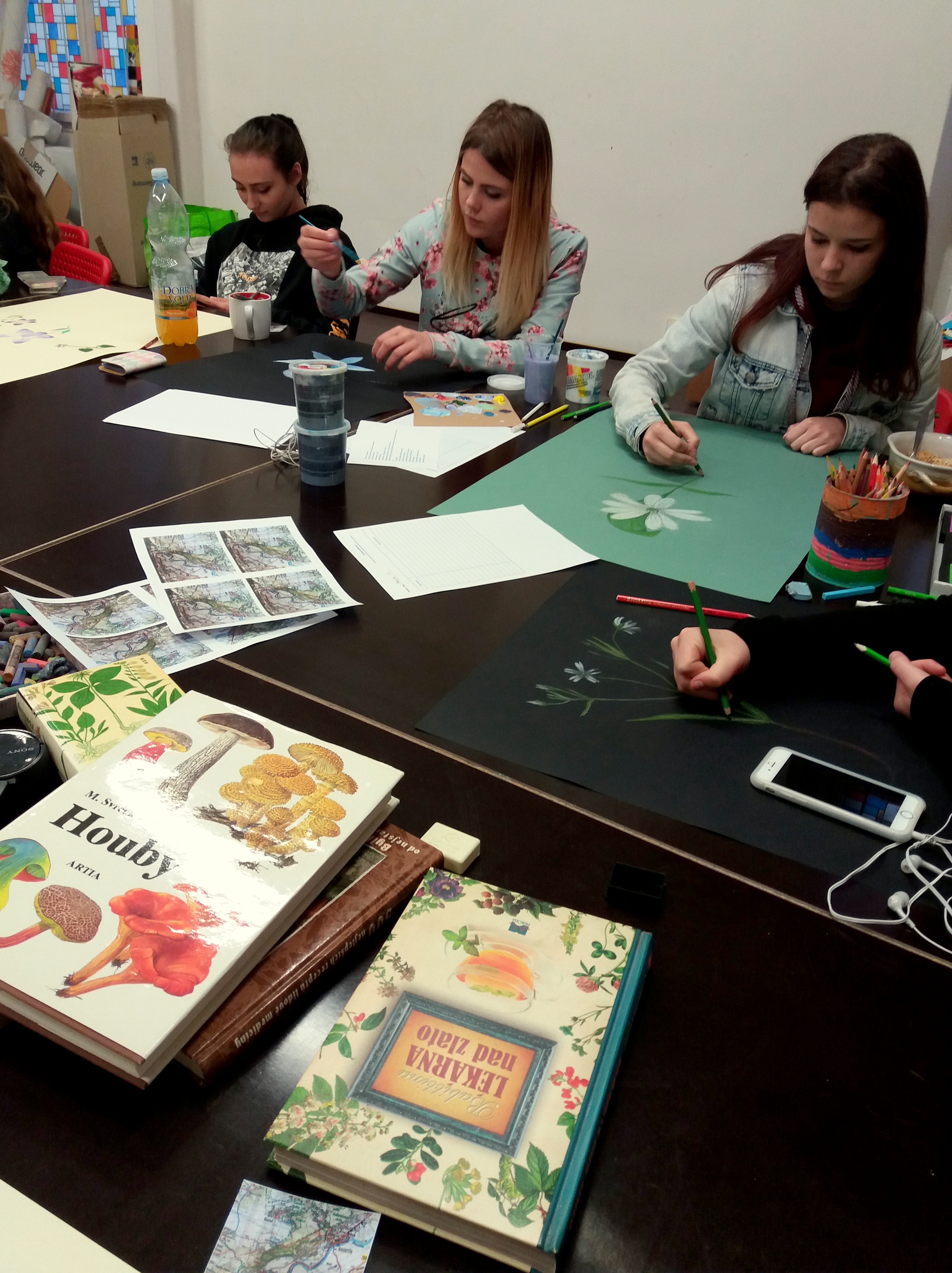 Experimental phase
Action that unfolds the practical activity to clarify the question: Did you ever visit the area of Radotín valley? Did you know, that some of the plants grow, only in this place? Do you know the history of the place, where you live? (local legends, the tradition of walking through the landscape and gathering herbaceous plants, mushrooms and forest fruits).
Active work of the students: Get to know PlantNet application.
Presentation of findings and results (visualisation of information): Fill in sheet "what you don´t know about me".
Analysis of results: Through collective discussion.
Project/design phase - part 1
Second action that unfolds the practical activity: Are you ready to go?
Active work of the students: Walking, taking a picture of a plant (tree, bush or flower). Localizing a place of finding and designations in the map. Using application PlantNet. Founding its botanical name. Founding more information about plant and using this information like the inspiration for original artwork.
Presentation of findings and results (visualisation of information): Students can improve in recognize of plants, orientation in the landscape, sense direction and discover their creative potential.
Analysis of results: Compare results of the search from application PlantNet with books and herbals.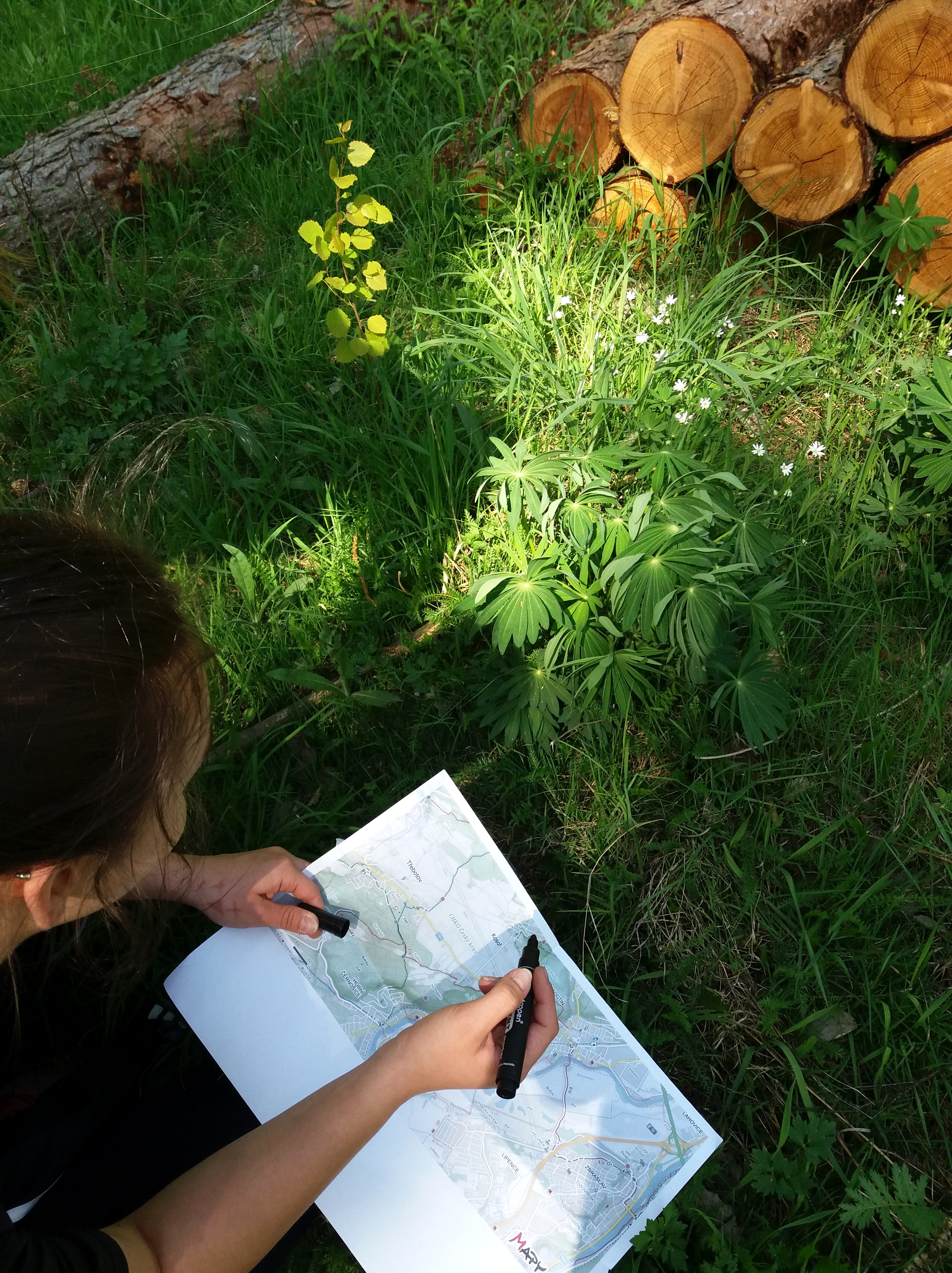 Project/design phase - part 2
Third action that unfolds the practical activity: Did you find a way of your expression? Here is everything you need for your work. Now you can show your creative force.
Active work of the students: Each student can choose art techniques, dependent on his preference and skills. There are no limits. There is an offer of classic art techniques and technology (computer graphics, copying, changing colors, using negative display, multiplication in PC programs, etc.).
Presentation of findings and results (visualisation of information): Collective discussion over paintings.
Analysis of results: Visual analysis.
Approach to a new software or a new app:
Our ancestors were used to live in harmony and cooperation with nature. They have deep knowledge about plans, earth, and animals. We live in a more and more technical civilization. Some application can help us to found again these connecting.
Links between the Digital Atelier and real life of the students:
The sheet "what you don´t know about me" show, that nobody of students uses applications for studying or personal progress. And only one student means that taking photos is a visual art. Maybe now they can start thinking in a new different direction.
How do you plan to evaluate knowledge and skills?
Everybody has a claim on their own evolution level. In the questions of creative aspects of humanity, is very hard to do an evaluation.
Conclusion:
Maybe it has sense.
The publication was created as part of the project: APP YOUR SCHOOL.
This publication reflects the views only of the author, and the Commission cannot be held responsible for any use which may be made of the information contained therein.