Audience: youthworker, teachers
Citizens
Organising institution:
Modern Poland
Country:
Poland
Age:
14-15
Key question:
What does it mean to be a citizen?
Objectives:
focus on a human being,
using smartphones to build relationships, make contact with a stranger understanding citizenship,
being aware of the power of photography to convey information,
building awareness of being a citizen.
Time:
6 hours.
Software and apps to be used:
Collage Maker app,
smartphone,
PicPac.
Brief presentation:
In this DA we concetrate on a portait. We start with manual work with wood logs or briquettes. Participants have to decorate them by using newspaper cutting and other materials in order to create faces of city inhabitants. After that we go out to meet real inhabitants of the city and make contact with them. The task is to take photographic portaits and in this way to make a collection of faces of the city passsers-by. Then we redraw taken photos with charcoal on A3 paper using the method from the "Memory project" and – in the end - we make timelapse videos.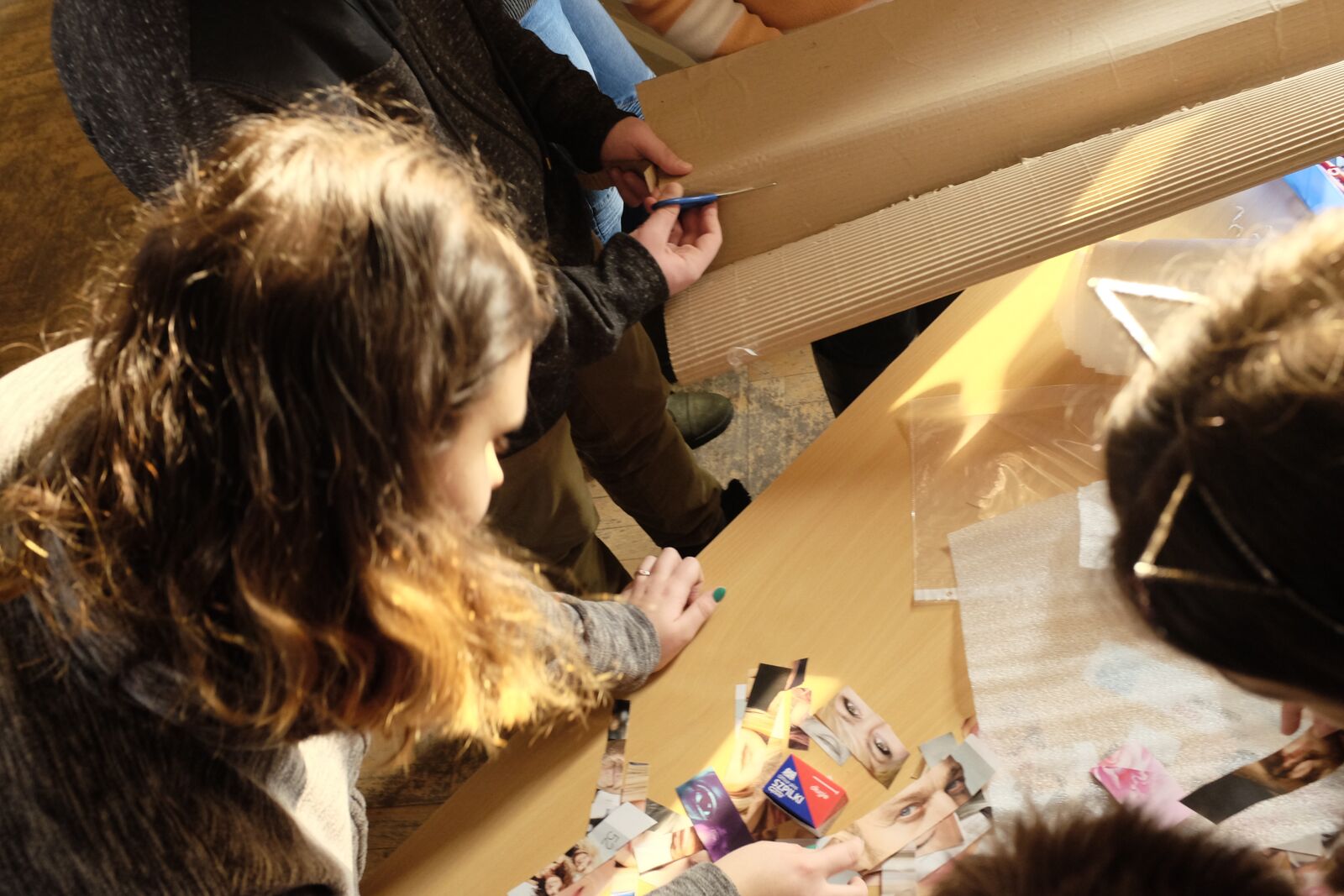 Topics covered:
social interactions,
new technology,
citizenship,
communications.
Civic engagement:
social relationships,
citizenship,
social integration,
building connection with the local area.
Preparation of space for the Atelier:
You need a room with a screen, projector connected to a laptop, internet and a printer. Prepare a big common table, so everyone has a comfortable place to work at. Cover it with a brown paper. Make sure you have enough space in the room to move around.
Materials needed:
logs of wood (one per participant),
mouth and eyes cut off from newspapers and magazines,
pins,
material to make hair e.g. strings, wool,
white sheets of paper,
charcoal for drawing,
paper for printing,
black and white photos of important citizens of your city.
Main inspirations taken from personal research:
Mass media and social media connections:
Discovering the meaning of creating a portrait – how to prepare yourself and the person who is the subject of it, as well as the portrait's meaning – the message it can convey, what it reveals.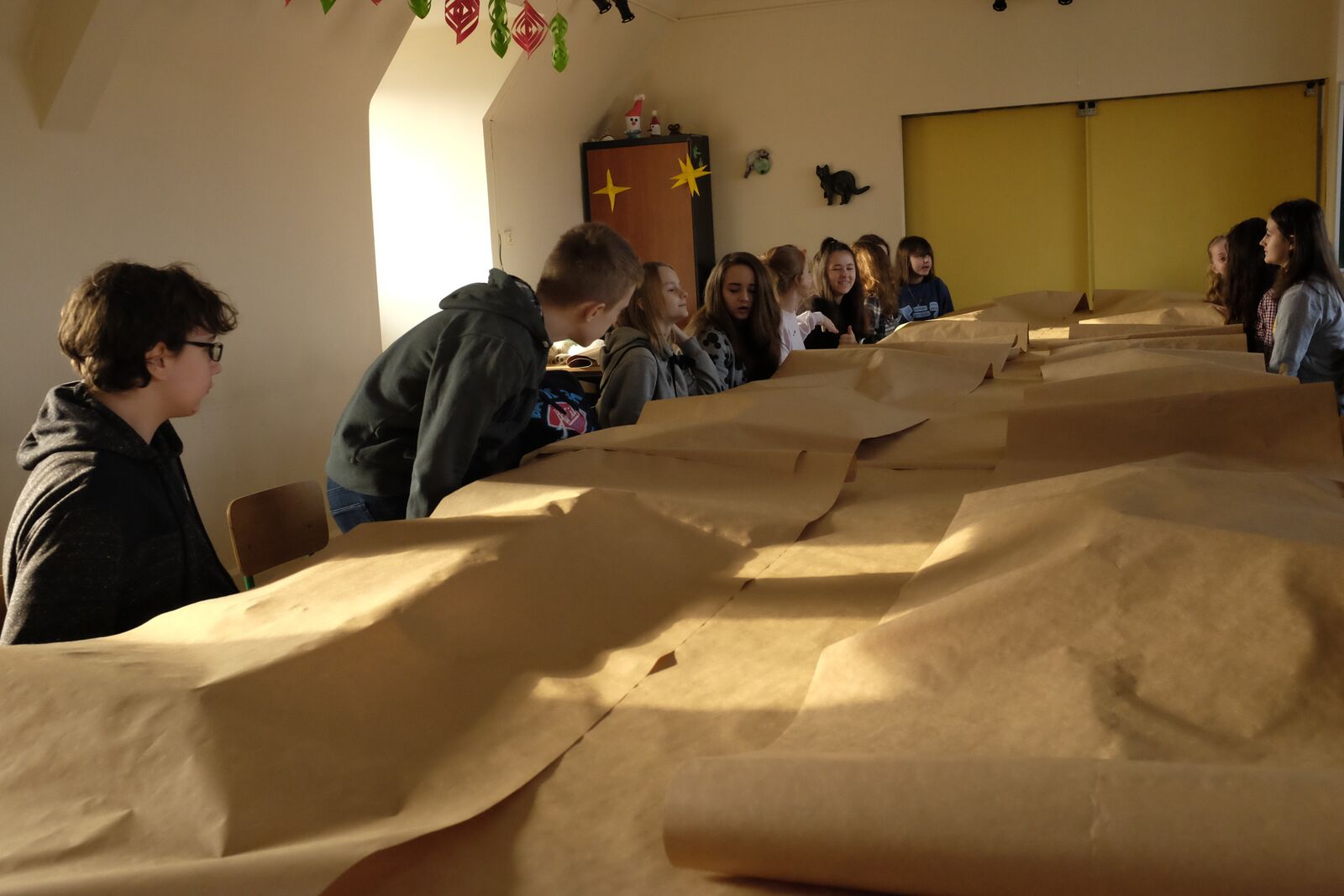 How do you plan to give voice to students to present or show their personal skills and knowledge?
Students work individually, focusing on the portrait and in groups, doing interviews with city inhabitants and creating their portraits.
How do you collect information as the starting point of a Digital Atelier?
Introductory chat about how we read emotions of other people, especially mimics. Ask the students which parts of the face are the most important. Focus particiapnts' attention on eyes and mouth of the person they talk to. This will allow you to undestand students' ability to read non verbal communication. Sharing experiences of taking photos and portraits.
Introducing students to the key question - the research begings:
Ask students if they feel they are citizens. What does it mean?
Experimental phase
Action that unfolds the practical activity to clarify the question: Invite students to the table where you gathered logs of wood and other materials (mouth and eyes from magazines, strings and wool). Ask the question: how to make a face from these elements?
Active work of the students: Students choose from prepared materials what they find most useful. Each person picks their set (two eyes, mouth, hair). Using pins they fix them to the logs.
Presentation of findings and results (visualisation of information): Gather all the created log characters in one place.
Analysis of results: Look at the characters created. Discuss possible relationships among them, invent dialogues, try different configurations, arrange different scenes.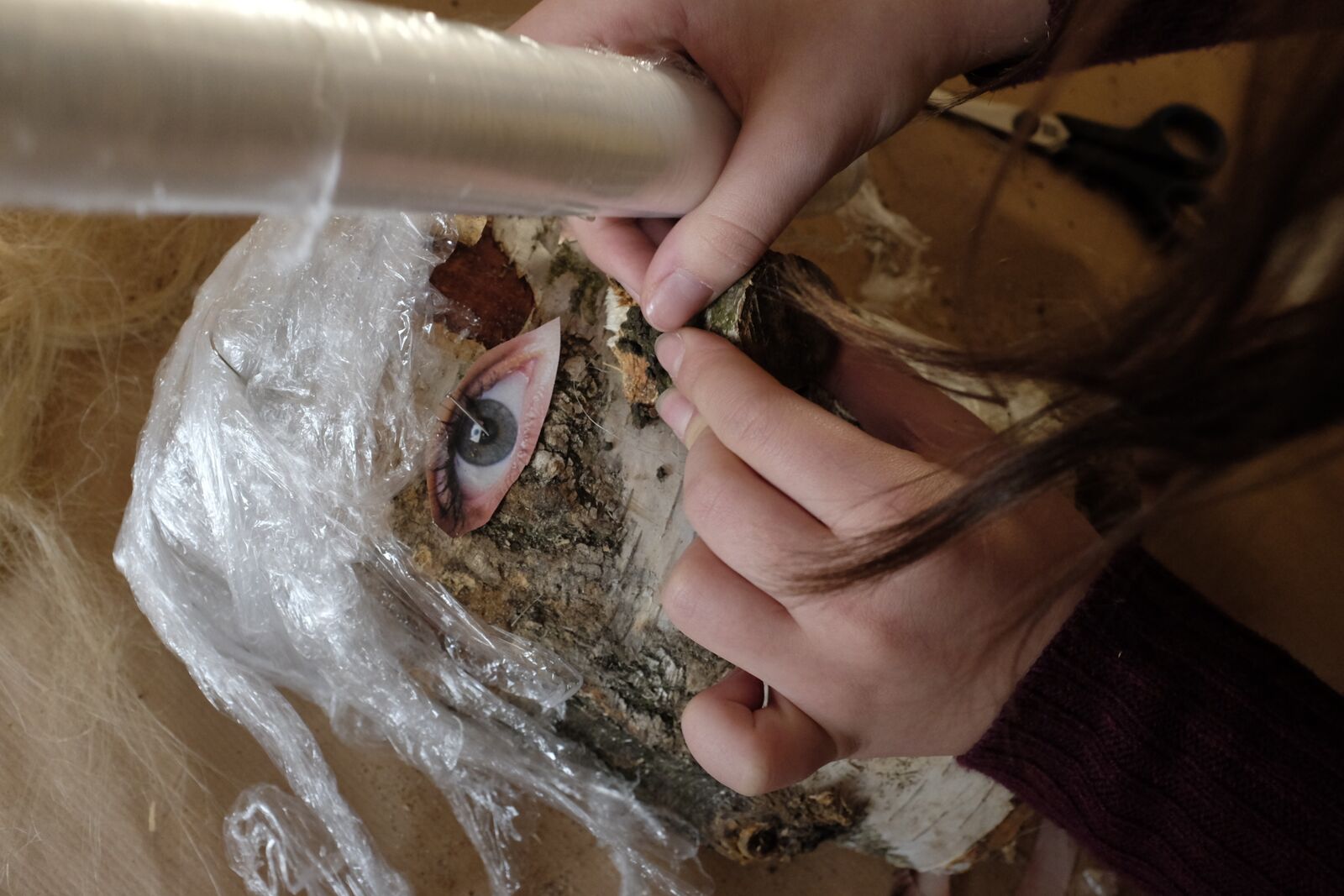 Project/design phase - part 1
Second action that unfolds the practical activity: How to make a contact with a stranger in order to create their portrait?
Active work of the students: Introduce the topic of portrait. Lead particiapnts to a conclusion that simply taking a photo of somebody is not a portrait. Emphasise the need of framing – directing attention of the viewer. In relation to the previous excersice mention that for a face to express emotion there needs to be some contact between the author and the subject of the portrait. Divide participants in groups of 4-5 and ask them to write down a set of questions they can use to make contact with a stranger and convince him/her to allow for their portrait to be taken.
Presentation of findings and results (visualisation of information): Groups present the results of their work – ask questions to specific persons. Hearing an answer allows to verify the quality of the question.
Analysis of results: Discussion about the questions prepared, making corrections if necessary.
Project/design phase - part 2
Third action that unfolds the practical activity: How to create a portrait of a stranger?
Active work of the students: Participants explore the city in groups with a task to take 4-5 portraits of randomly met persons. Make sure they know that each person has to agree to be photographed and the photos have to include some social aspects; the person should be portrayed where the meeting took place and include their characteristics as citizens. Participants edit photos on their smartphones, frame them, use filters and send them to you, who prints them on A4 paper. Using application Collage Maker participants create collage of portraits of city inhabitants.
Presentation of findings and results (visualisation of information): Using a projector present collages created by the groups.
Analysis of results: Discussion with students about their impressions of meeting citizens of the city.
Project/design phase - part 3
Fourth action that unfolds the practical activity: What makes one a citizen?
Active work of the students: Print out portraits received from the participants. Add them to black and white photos of important citizens of your city that you prepared in advance. Each participant picks one random portrait and makes charcoal drawing of it using The Memory Project technique https://memoryprojectproductions.com.
Presentation of findings and results (visualisation of information): Using PicPac app create a timelapse with charcoal portraits held by the participants in a busy place in the city. Present results of your work.
Analysis of results: Conversation about being a citizen. Who and how can become a citizen? What makes one an important citizen?
Approach to a new software or a new app:
During this DA students learn about portraits and how they are different to casual photos. They develop competencies of taking portraits of strangers and editing digital pictures in default applications.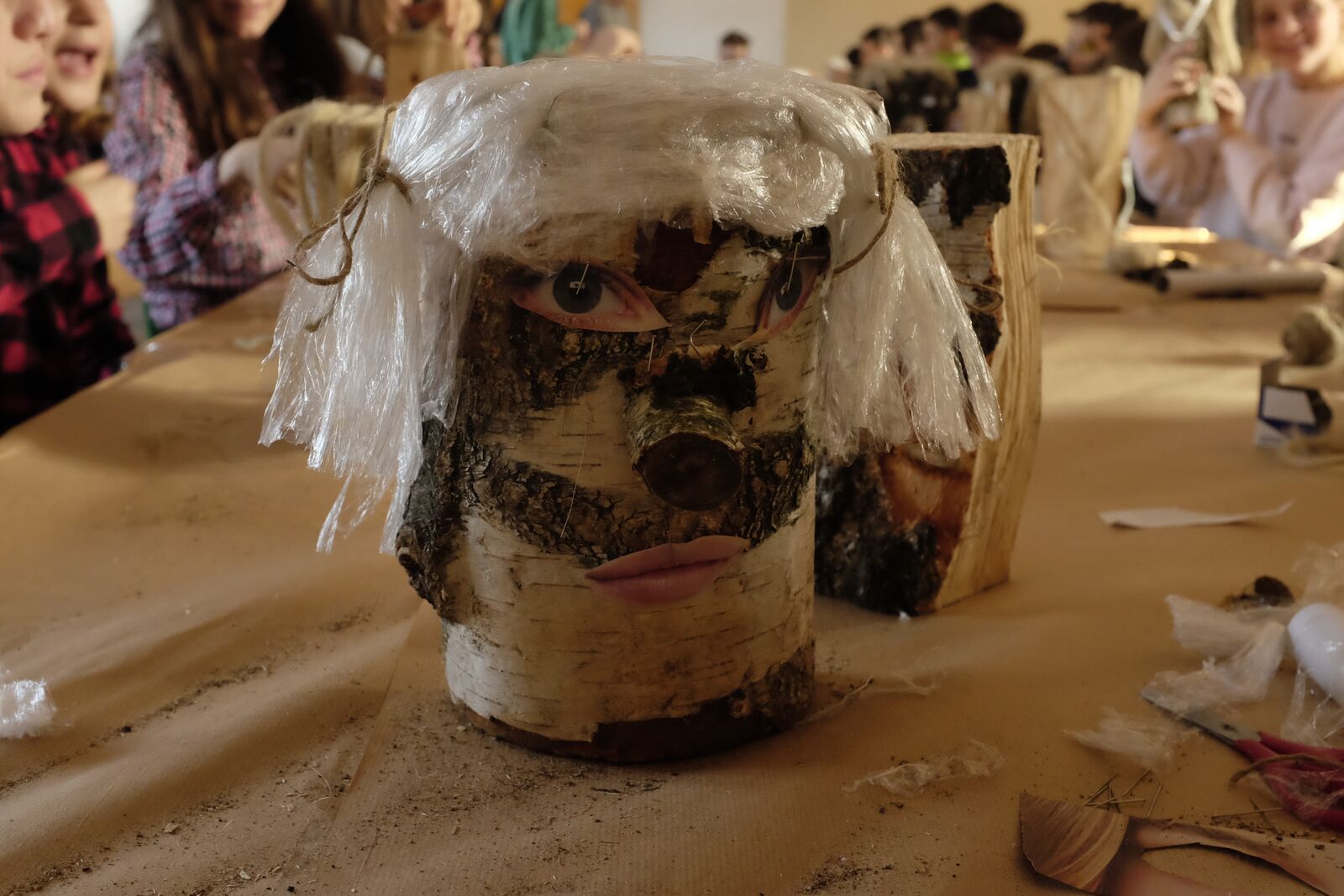 Links between the Digital Atelier and real life of the students:
Looking at portraits of the citizens encourages reflection on own citizenship, builds local identity and connection with the city and its inhabitants. It helps to overcome social communication barriers.
How do you plan to evaluate knowledge and skills?
Evaluating knowledge and skills is based on observation how in the process of work students change their understanding of being a citizen. Analysis of students' work.
Conclusion: Taking photos of randomely met people develops social skills – students noticed that themselves.
The publication was created as part of the project: APP YOUR SCHOOL.
This publication reflects the views only of the author, and the Commission cannot be held responsible for any use which may be made of the information contained therein.